Germany isn't all about swigging beer and the Berlin Wall (although both should be on your holiday hitlist!). From cutting-edge art collections to fairytale castles, feast your eyes on these 10 must-visit German destinations and the top things to do when you get there.
1. Raise a stein in Munich
You may have already heard, but Germany takes its beer pretty seriously. One of the country's most famous places to enjoy a pint is Hofbräuhaus, the royal brewery in Munich. Founded in 1589 by the Duke of Bavaria, they serve a range broad enough to please any kind of palate, from hoppy maibock lager to weiss wheat beers. A watering hole with history, it's educational and good fun. Make sure you supplement the booze with a Brotzeit, or a plate of cold meats and cheeses. Of course, if you're travelling to Germany in autumn, make sure you pack your finest pair of lederhosen and get down to the most famous beer festival in the world: Oktoberfest. Confusingly, it actually begins in September, and happens in most cities in Germany, but Munich is the big headliner. See the website for this year's dates and book your Munich accommodation early – Oktoberfest brings thousands of tourists flocking and hotels will put their prices up accordingly. If you want to save your euros for the drinks (beers cost around €11*), choose a mid-range option like Hotel Regent, that also benefits from a central location near to the train station. Find more top things to do in Munich beyond the beer in our full guide to the city.
2. Explore the Romantic Road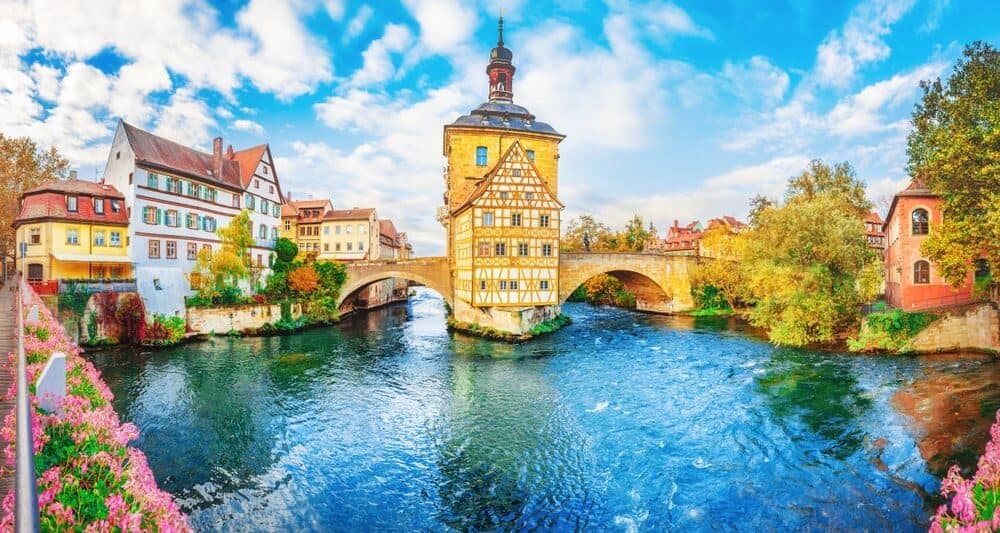 Rekindle an old flame, keep the fire burning, or simply head out for a nice afternoon spin; the Romantic Road is a great way to kick off your German holidays. Running 400km from Wurzburg to Fussen in the south, this scenic road trip route is lined with some of the best places to visit in Germany. All chocolate-box towns, tiny hamlets and wide-open horizons, you'll find it hard to stop yourself pulling over every 5 minutes just to drink in the scenery. Make a pit stop in picturesque Görlitz, which remains intact in its pre-WWII state having escaped major bombing. The Romantic Road will have you falling in love with Germany; beer-goggles not required.
3. See a performance by the Berlin Philharmonic Orchestra
One of the top things to do in Berlin has to be a night at the Philharmonic Concert Hall. The Berlin Philarmonic Orchestra is considered one of the best in the world and this prestigious company has counted composers like Beethoven and Wagner amongst its number. It's no surprise that a great musical tradition has thrived here and there is no better place to sample the delightful sounds of classical and contemporary German music. If your budget's limited, consider a lunchtime concert, which are free short performances featuring members of the Orchestra and held in the foyer, so you'll only need to pay for food. Make time for a tour of the world-class music chambers if you can – there's no advanced booking unless you're in a group, so turn up in plenty of time! Tours run daily at 1.30pm, €5.00/€3.00. Discover more attractions in Berlin, with our local's guide.
How to get there
You can fly to Berlin fairly cheaply from a choice of UK airports, including Glasgow, Manchester, Birmingham and Newcastle. S-Bahn trains run frequently from both Berlin Schönefeld Airport (22km) and Berlin Tegel Airport (8km) to the city centre. The Berliner Philharmonie is located to the north-west of Potsdamer Platz.
4. Explore the Düsseldorf Altstadt
The Altstadt (Old Town) in Düsseldorf is known as 'the longest bar in the world' for good reason. A square kilometre of great bars, restaurants and nightclubs, it's also very easy on the eye, full of church spires, flower-laden facades and as night falls, twinkling streets lined with alfresco dining tables. It's the place to try the region's famous alt beer, a type of dark ale brewed in many traditional German breweries around the city. One of the most famous is Uerige which employs Düsseldorf's only beer sommelier. Clear your head after all those brews with a stroll along the Rhine River the next day. Try a plate of Rheinischer Sauerbraten (marinated beef with raisins) in one of the waterfront cafes or grab a quick claim to fame by lunching in Dusseldorf's oldest restaurant, Zum Schiffchen, which allegedly once played host to Napoleon himself. Read about more of the top things to do in Düsseldorf including an art gallery in a tunnel!
5. Enjoy a culture break at the Städel Museum
A seamless blend of the Classical and the Modern, the Stadel Museum in Frankfurt showcases more than 700 years of artwork all under one roof. See Dutch Masters like Vermeer and Van Eych alongside Renaissance artists like Botticelli, then fast-forward several centuries to take in the best in twentieth century and contemporary art, from Francis Bacon to the current exhibition on Modern great, Georg Baselitz (until 23 October 2016). It's also quite possibly the only museum in Europe to have a beer garden, the perfect spot to refresh after a morning of masterpiece appreciation. Entry costs €14/€12, free for under 12s.
6. Venture into the Black Forest
Thoroughly deserving its name, the National Park of Schwarzwald or literally 'Black Forest' is so dense in parts that the sun barely penetrates, leaving you to explore a twilight world of magical groves and pine trees, breaking out into vast lakes and idyllic farmland. Use Freiburg as your base, a pleasant student city with some beautiful churches and fairytale Gothic architecture of its own. There's plenty of good value accommodation if you want to stick around for a short break; try Hotel Classic, located north of the city on the tram route and 5 minutes away from the the highway for road-trippers. To get out into the wilderness for the day, join one of many Black Forest guided and self-guided tours, including helpful DIY itineraries from Freiburg by car or train from companies like Black Forest To Go.
7. Browse Dresden's art collections
Not widely known for its art galleries, Dresden is a great place to check out German art, without the queues and crowds. The Staatliche Kunstsammlungen, or Dresden art collections, began life as the private artworks owned by Germany's sixteenth century aristocrats and today holds priceless pieces from all over Europe. The collections are spread across a number of galleries in Dresden, giving you the excuse to take in the town's most photogenic landmarks, including the New Masters Gallery, the Royal Palace and the Museum of Decorative Arts. Make a day of it and pack a picnic to enjoy in the gallery grounds or stroll past the Baroque buildings of the waterfront, beautifully restored after suffering bomb damage during World War II.
8. Drive the Autobahn
Germany's famous toll-free Autobahn highway snakes its way across the entire country, attracting petrol-heads and anyone who fancies exploring the country efficiently. Parts of the highway have no speed limit, but be careful not to let that inner speed demon loose and always drive carefully – check out the rules of the road before you go. Watch out for the phrase bei Nässe on road signs, indicating that a speed limit applies when the road is wet – other areas may have enforced speed restrictions to help reduce noise pollution. Caution is a must, but if you're planning on hitting several German cities during your holiday, this can be one of the quickest and most fun ways to travel. Driving abroad for the first time? We've got some handy tips for how to drive in the most popular holiday destinations, including Germany, Spain and France.
9. Climb up to Neuschwanstein Castle
Up in the Bavarian Alps you'll find the former home of Ludwig II, Neuschwanstein Castle, that looks like it might belong in the pages of a fairytale. The iconic white turrets are a throwback to the Medieval period in German history, a romantic, nineteenth-century vision of the past and according to some, the inspiration for Disney's equally iconic 'Sleeping Beauty Castle'. Though Ludwig originally created this cloud-capped fortress to escape from the crowds, it's now one of the biggest attractions in Germany so it's wise to reserve tickets online and go during low season (November to March).
10. Visit the Berlin Wall
No visit to Germany could be complete without seeing the famous stone structure that divided a city, symbolising a divided nation. Erected by Germany's leading communist powers, the Wall today stands in ruins after it was torn down by Berliners in 1989. Tour what remains and see the murals that local artists have painted on it's crumbling brickwork. It may have been transformed in to an outdoor gallery, but it is still a sombre reminder of the city's turbulent past. Looking for a Berlin alternative? Try a cool city break in Cologne, home to some top-class shopping, creative architecture and a chocolate museum!